Cart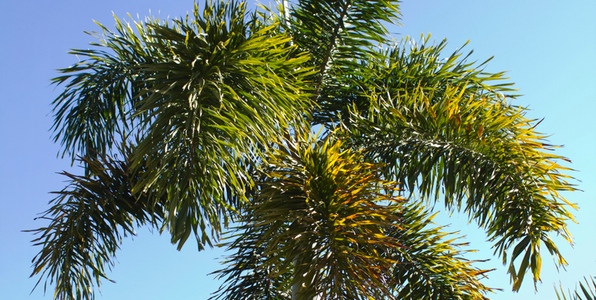 Gallery
Click the thumbnails below to view image gallery:
Foxtail Palms, native to Northern Australia are one of the most attractive known palm species. They can be told apart from other palms by their single gray trunk, grow to 10 metres and sprout light green feathery fronds.
Foxtail Palms thrive in warm dry climates and are fast growers. They handle light frost, are particularly strong against disease and pests and are resistant to the lethal yellowing disease.
---
These easy to grow, worry free palms have a wide tolerance to different soil types, including rocky sands and alkaline limestone soils. They make an excellent addition to all climatic areas. Foxtail palms are grown with great effect along the medium strip of the streets of Surfers Paradise.
Here are some basic tips that should help you grow Foxtail Palms.
- In order to experience rapid growth for your palms, you must fertilize them regularly. The right fertilizer to use is one that is packed with slow release potassium and micronutrients. The potassium is particularly important since your palm may suffer from a deficiency in low potassium soils.
- Foxtail Palms are prized for their beautifully solid trunks and their feathery leaves. They are considered great accent pieces for any lawn or garden when planted alone. If you are going for a more dramatic effect, these palms may also be planted in groups of three or more. They also serve as house or conservatory plants that look extremely gorgeous in well-lit areas. You can also plant foxtails in pots as nice patio plants.
- Foxtails will tolerate a fair amount of salt spray and strong winds. Allow space for the size of their trunk and spread of their fronds.
- The soil of your Foxtail Palm must be well maintained and properly cared for. In order to ensure only the best growth for your palm, use a fertilizer that is vitamin packed. Look for one that is.
- Fertilize using a complete plant food with all essential minerals because these vitamins and nutrients are usually leached out of the sandy soils that the palms grow best in. Keep your fertilizing sessions to a minimum, do not over fertilize them.
- It is important to keep your watering to a minimum as well. Watering must be done slowly ensuring that the water gets deep into the root system. Water twice a month during summer and once every six weeks during the winter months.
- In order to keep your palms looking healthy and attractive, prune your Foxtails' dead fronds. It is extremely important to prune properly by cutting six inches away from the trunk. Because any nicks on the trunk may open up the palms to insects and disease.
- Foxtails look particularly great when planted on one or all four corners of your house. Planting a row of Foxtails will instantly give your garden a lush tropical feel.
A Beginner's Guide to Fishtail Palm Tree Care (Caryota Genus)
Caring For Your Kentia Palm (Howea forsteriana)
Keeping Your Foxtails Disease Free
The Highs and Lows of the Bangalow Palm
Tips about Caring for Majestic Palms (Ravenea rivularis)
Tips for Growing Chinese Windmill Palms
Understanding the Nature of Triangle Palm for Beginners
<< Previous
Tips for Growing Chinese Windmill Palms
| Back to
Mullumbimby Palm Blog
| Next >>
Understanding the Nature of Triangle Palm for Beginners