Cart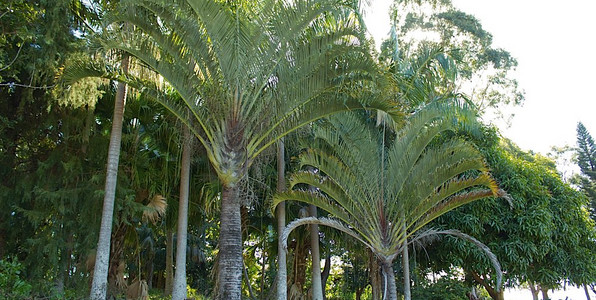 Gallery
Click the thumbnails below to view image gallery:
The Triangle Palm ( Dypsis decaryi) is one of the more attractive palm species. It is characterized by its meticulously arranged fronds that form the shape of a triangle.
What makes the Triangle Palm so conducive to first time palm planters is that it grows extremely well whether indoors or outdoors. Because of its beautiful and unusual shape, they are a favorite to plant for enthusiasts and hobbyists.
---
For anyone looking to own a potted or planted Triangle Palm, here is a closer look:
What's in a name?
Aside from it scientific name, the Triangle Palm may also be referred to as Neodypsis decaryiraveler's palm or the three Sided Palm. Its trunk is upright, smooth and spanning anywhere from nine to thirteen inches in diameter. It is usually brown and gray in appearance and is marked by the rings from the fallen fronds.
The base of the fronds is overlapping and grows from three points from the trunk forming a triangle. The fronds grow almost upright, sometimes reaching to an impressive 3 metres by 1 metre and have a somewhat bluish green shade.
In bloom
The Triangle Palm also produces beautiful flowers that are yellow and green in colour. They rest atop of stems that grow over a metre long. The flowers also bear a small round black inedible fruit that measures an inch in diameter. This type of plant is in bloom all season making it doubly pleasing to the eyes.
It grows considerably fast, reaching from 4 to 6 m tall and 3 to 5 m wide. It will tolerate cold temperatures of 0 degrees c but only for short periods of time. In cold temperatures make sure that your Triangle Palm is as dry as possible. It thrives particularly well under the hot sun but will also grow under shade.
As with most palm species, water requirements are low so make sure that the soil is completely dry before treating your Triangle Palm to renewed watering. To ensure dryness and good drainage use a potting soil mixed with some sand.
The importance of nourishment
The growth and maintenance of Triangle Palms is not particularly difficult. With some tender loving care, you should be able to grow your own plant to a nice respectable palm. You must not forget to fertilize twice a year. Make sure to use a good fertilizer packed with vitamins and nutrients that are essential for growth. Look for a continuous release variant and make sure that your palm is well fed and nourished throughout the seasons.
Eye-catching ornament
The Triangle Palm is best used as an ornament because of its uniquely arranged form.
Also, remember to keep your Triangle Palm looking its best with regular pruning. Remove all brown and dead fronds to improve the aesthetic appeal.
Although the fruit of the Triangle Palm is reportedly inedible, there are some science books that claim that they contain a high nutritional value. The seed of the Triangle Palm germinates particularly well taking about one month.
<< Previous
Tips for Growing Chinese Windmill Palms
| Back to
Tips for Growing Magnificent Foxtail Palms (Wodyetia bifurcata)
| Next >>
Good Looking Australian Palms