Cart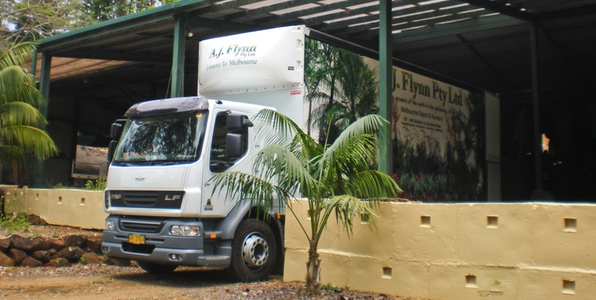 Gallery
Click the thumbnails below to view image gallery:
Deliveries are subject to a long wheel base ridged frame truck (approx. 10m long) with a pantect body (approx. 4m high), which must be able to reach your house or delivery address. Our nursery is located in Mullumbimby 1 hour south of the Q.L.D. boarder on the coast. All deliveries take approximately 5-10 days, after ordered to reach their destination. Once your order is placed a confirmation will be sent within 24 hours with an accurate delivery date.
If you have special delivery requirements, concerns or need to arrange an alternate drop off point, please let us know when placing your order or contact us via email.
The carrier will deliver the plants to your letter box or inside your immediate front gate. He is not required to barrow them around to the backyard or into lifts.
Plant Carriers used are Freeman Freighters and East Coast Freighters going south
and GT Nursery Freighters going north
All prices include GST.
Melbourne: inner city to outer suburbs

- delivered to your address

$324 per pallet, (1-9 palms) private address

$254 per pallet to a shop

Sydney

$ 220 per pallet, (1-9 palms)

CENTRAL COAST

NEWCASTLE

WOLLONGONG

CANBERRA










$ 280per pallet

$ 306 per pallet

$ 280 per pallet

$ 335 per pallet

Gold Coast

and Northern Rivers NSW

Or $ 65 for 3 palms + $ 17.30 each extra palm

Brisbane

PERTH. Sorry there is no freight price for small orders only whole truck loads

$ 220 per pallet