Cart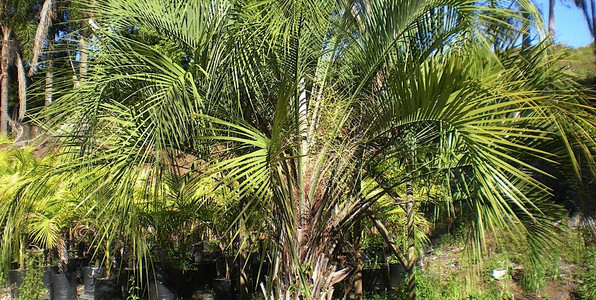 Gallery
Click the thumbnails below to view image gallery:
The Wine palm genus of about eight species come from South America and can be a very good palm to grow in cold parts of Australia. They give lots of benefits and enhance the landscape. Depending on the setting, you can do a lot of things with a wine palm. Below are some aspects and fundamentals of growing wines.
Species Overview
The wine palm is a type of palm that is best known for its thick trunk. In fact, among all palm, the wine palm has the thickest trunk to date. The origin of wine palm goes back to the Andes Mountains then it spread all over the globe. The palm can grow to 20 metres.
---
The trunk diameter differs from one plant to another and depending on the kind of environment it is exposed to. As for the height of the trunk, remember that it takes years even decades for a palm like this to grow even just beyond the 6 metre mark in cold climates. If you want to grow a large plant, be patient. This is one reason why the wine palm has turned out to be one of the most costly palms around.
In many ways, the purchase of a palm like the wine palm is considered a sign of affluence. Because of its size and the way it grows, people usually treat having a wine palm as a symbol of their prominence. The Wine palm is inclined towards sun and heat but is also suited to the colder parts of Australia. It is the most common Wine grown here. The Butia capitata is named the Wine and Jelly palm because its seeds have fruit around them that are edible and taste like wine and jelly. This plant will tolerate -10 degrees c, grows to 5 metres and is quite drought resistant.
Growing Wines
The Wine seedling should be placed in a small well drained container ( 3" tube), under shade and away from excessive rain or watering. A waterproof greenhouse is best. When it has outgrown this container move it to a larger container ( 8" pot) under shade exposed to rain. When the plant is half a metre with several fronds then it can be planted in the ground during the growing season. Use slow release fertilizer when required.
This type of palm prefers its surroundings to be dry if the temperature is cold, ideal for Adelaide. Additionally, make sure the soil has good draining capabilities. Clay soils can be used if the drainage is OK but the moisture content should be low. In good growing conditions they may become top heavy and lean over while waiting for their root system to anchor the large trunk.
<< Previous
Good Looking Australian Palms
| Back to
Mullumbimby Palm Blog
| Next >>
GUIDE TO PLANTING. This article is in the home page.