Cart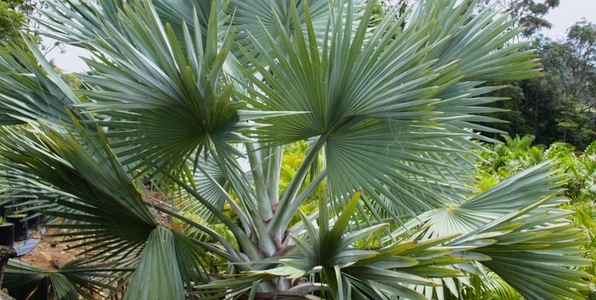 Gallery
Click the thumbnails below to view image gallery:
Some Exotic Palms
Bottle Palms (Hyphorbe lagenicaulis)
They are native to the Mascarene Islands, located just east of Madagascar. They are capable of growing 3 to 6 metres, but they usually stay closer to the low end of that range. They feature a grey, bottle-shaped trunk with a distinctive green crown shaft and pinnate (feather-like) leaves. The Bottle Palm has white flowers and small, black berries. They are suitable for indoor and outdoor use and are easy to maintain. However, they grow slowly and are not particularly frost-tolerant. They thrive in shade and partial shade.
---
Christmas Palms (Adonidia Merrillii)
They are native to Malaysia and grow 3 to 6 metres in cultivation, taller in their native habitat. They have a smooth and slender grey trunk with a bright green crown shaft. The fronds are pinnate, and the flowers are creamy in colour. The Christmas Palm features red, berry-like fruits that dangle in bunches, hence the name of the tree. They are perfect for both indoor and outdoor use. They are not frost-tolerant, but they are capable of surviving in drought-like conditions.
Dwarf Sugar Palms (Arenga engleri)
They are native to the islands south of Japan. They grow to approximately 6 metres and have pinnate leaves that can be up to 2.5 metres long. They feature red to deep purple fruits. The Dwarf Sugar Palm is frost-tolerant and appreciates full sun to partial shade. They are not drought-tolerant, as they like moist, well-watered soil.
Golden Cane Palms (Dypsis lutescens)
They were originally found in Madagascar. They grow 6 to 12 metres tall and have multiple stems emerging from a base. The fronds are 2 to 3 metres long and pinnate. Each Golden Cane Palm has about 40 to 60 leaflets. They are ornamental plants that thrive inside and outside. They are often used as an outdoor decorative barrier or a house pot plant.
Majestic Palms (Ravenea rivularis)
They are native to Madagascar and grow to approximately 12 metres in height. They have pale gray trunks, and large, green fronds grow vertically from these trunks. They will thrive in both the shade and sun, although the sun will fade the colour of the fronds. This doesn't hurt the palm, however. They are not drought-tolerant and like to be well watered.
Princess Palms (Dictyosperma album)
They are originally from the Mascarene Islands. They grow approximately 9 metres tall and feature a solitary, slender trunk with a canopy of 10 to 20 pinnate leaves. They have purplish-black fruits and prefer a subtropical climate. Princess Palms are moderately drought-tolerant.
The Lipstick or Red Sealing Wax Palm (Cyrtostachys renda)
comes from Malaysia and has a brilliant red crownshaft. It has slender clumping trunks with feather leafed fronds and cannot be outdone. This palm is specular but only grows in the tropics from Cairns and beyond.
Orange Crown or Red Crown Shaft (Areca vestiaria) Both are beautiful, the red clumping vestiaria is stunning, grows to 3 to 4 metres, needs filtered light not full sun and no frost.
It is native to Borneo and tolerates 5 degrees c and has either orange or red crownshafts. This understory palm is a more cold alternative to the Sealing Wax Palm which wiil not grow much past Townsville during winter.
Ruffled Fan Palm (Licuala grandis)
This palm and its cousin the Australian Fan Palm (Licuala ramsayi) are both beautiful palms with large tropical green fans. The Grandis also only grows from Cairns into the tropics.
The Australian Fan Palm (Licuala ramsayi)
is more cold tolerant and grows outside around Brisbane and can be grown indoors elsewhere. This palm comes from around Cairns and is not exotic but has very interesting fan leaves. It will grow into the subtropics outside and further south indoors.
Cuban Royal (Roystonea regia and oleracea)
They are from Florida, Mexico, Central America and the Caribbean. They give a tropical appearance and are used in resorts on the Gold Coast .They are tall (30m) with thick trunks and large fronds. The Oleracea is more cold tolerant and will in coastal Sydney.
Hawaiian Fan Palm (Pritchardia hillebrandi)
The Hawaiian and Fiji Fan Palms (and others in the family have tropical green fan leaves similar to the Licuala but not as spectacular. This is only for coastal Sydney and above.
Bismark (Bismarkia noblis)
This palm is from Madagascar and will grow to -3 degrees c and looks tropical because of its huge silver fronds and its general massive size, 8m tall and several metres wide but it can be trimmed to fit smaller spaces.
Small Palms
Below is a list of some small palms.
Cardboard Palm (Zamia furturacea) (Mexican Cycad)
Do not eat this plant. It grows to.3m with a 1. 2m spread and will grow in sun or shade but needs protecting from the cold.
Cascade Palm (Chamaedorea cataractarum or atrovirens)
grows to 2m as a clumping plant and likes shade but will grow in sun if well watered. It is not suited to outside in Melbourne.
European Fan Palm (Chamaerops humilis) grows to 2 to 5m, is a clumping palm and is cold tolerant.
Lady Palm (Rhapis excelsa)
grows to 2m and is a clumping palm which is cold and somewhat drought tolerant and makes an excellent indoor small palm. It looks best outside under some shade.
Macarthur Palm (Ptychosperma macarthurii)
grows a little taller to 8m and is an Australian native clumping tropical palm. The (Ptychosperma microcarpum) is similar with finer leaves and comes from New Guinea and is also tropical.
Needle Palm (Rhapidophyllum hystrix)
this bushy palm comes from the USA and grows to 2m, grows indoors and out and is cold tolerant.
Dwarf Date Palm (Phoenix roebelenii)
grows to 2m and is a single trunked palm with a bushy feather top. It will grow in sun or shade and is water tough.
Sago Palm (Cycas revoluta)
This cycad is from southern Japan and easy to grow. It is cold tolerant and a slow grower, maybe taking 100 years to reach 7m.
Sand Palm (Livistona humilis)
This single trunked palm grows a little taller at 4- 6m. It is a native of Australia but is slow and difficult, not for indoors.
Saw Palmetto Palm (Serenoa repens)
This palm is a spreading scrub from S E USA. It is cold tolerant and grows to 3m. It is not an indoor plant.
Walking Stick Palm (Linospadix monostachya) grows to 2-3m and is cold tolerant under trees, grows slowly and makes a good indoor plant.
Dangerous Palms
These palms are dangerous because they have spikes on their trunks at the base of the fronds or serrations along the stem of the fronds.
The Canary Is Date (Phoenix canariensis)
has 150mm spikes which are in harm's way for children and animals until the palm grows about 5-6m and the spikes are above head height. An alternative would be to constantly remove these spikes.
The Cabbage Palm (Livistona australis) and the Cotton Palms (Washingtonia robusta and filifera) have serrations along the centre of the fronds.
The Dwarf Date (Phoenix roebelenii)
has small spikes on its trunk hidden behind its leaves and is only dangerous to reach in.
The Senegal Date Palm (Phoenix reclinata)
is a bad palm. It is clumping with spikes on every clump.
The Cuban Royal (Roystonea regia and oleracea)
have large and heavy fronds and when the palm is tall the fronds fall without warning to the base of the palm.
<< Previous
Common Palm Diseases and How to Treat Them
| Back to
Mullumbimby Palm Blog
| Next >>
Factors to Consider in Choosing the Right Palm